Italian Tour Operator
Pro Italy is an italian tour operator with head office in Rome. We place our extensive experience in the field of tourism, at the incoming services of our clients, organising holidays for families, individuals and large and small groups. We believe client satisfaction is a key aspect of our work.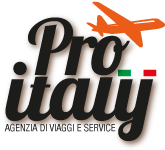 Pro italy tour operator organises personalised and made to measure itineraries for groups and for the individual which include guides, board and lodging of any kind (in hotels, apartments, villas and other), transport and everything that could be necessary for any requirement, throughout Italy and including the islands.
We offer a wide choice of itineraries, able to fulfil all requests, even themed trips or cultural tours.
We also organise transfers by bus, minibus, NCC car, ferry and plane.
We are a step above the rest thanks to our winning policy based on experience, professionalism and quality.
Pro Italy offers you a wide range of itineraries, for any requirement, need or budget, for groups or the individual traveller, giving you the opportunity of customising your trip and deciding, with you, all the stops and services you could require.